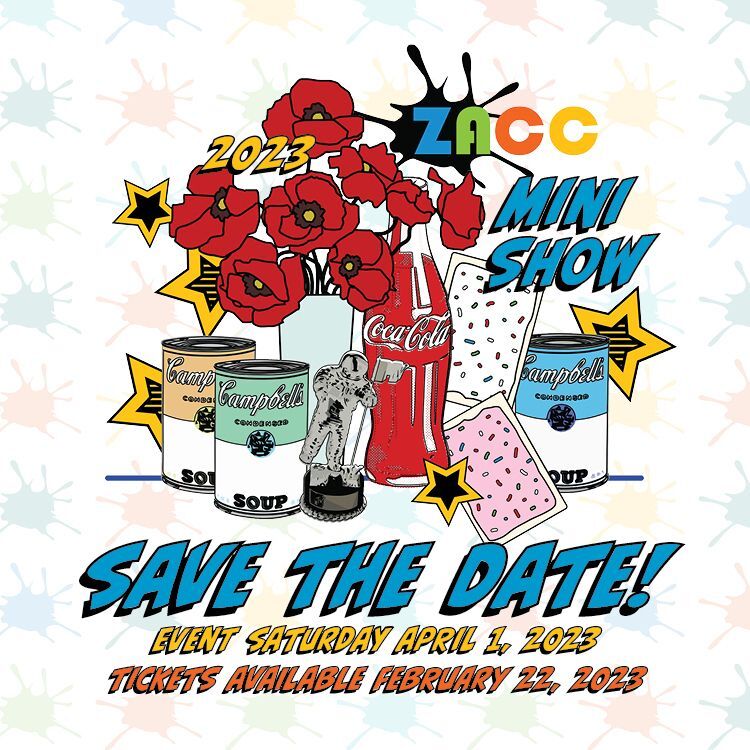 2023 MINI SHOW DETAILS
April 1, 2023, 5 PM at Missoula County Fairgrounds Commercial Building
The ZACC Mini Show Art Auction & Gala is now in its 11th year – and on Saturday, April 1, we'll again celebrate Missoula's love for the arts in the newly (and beautifully) renovated Commercial Building at the Missoula County Fairgrounds. We love our newest Mini Show venue, as the size of the room allows us to nearly double event attendance from its previous iteration at the Wilma Theater, and auction art of all sizes and mediums. 
The Mini Show always brings together Missoula's creative community to celebrate the arts and show their support for the ZACC. Attendees often dress in theme, and this year we chose the nostalgic and fantastically diverse theme of 'Make It Pop!' – so we can't wait to see what folks choose to wear! Guests at the 11th Annual Mini Show will experience a room filled with pop culture references, from music, to visual art, to food, to poppy Americana. In addition to the festive atmosphere and catered dinner, the event will feature an expansive art exhibit with silent and live auctions, a dessert auction, a cash bar, and live entertainment from a cast composed of longtime supporters and new friends. The 2023 Mini Show will truly be a welcome social experience after a long, cooped-up winter.
---
PARTICIPATE IN THE 2023 MINI SHOW
THANKS TO OUR 2022 MINI SHOW SPONSORS!
The Mini Show wouldn't be possible without our community of artists, volunteers, art lovers, and generous sponsors. Thanks to last year's event sponsors for their generous support.
Want to do your part to support access to the arts in Missoula? Help us make the 2023 Mini Show the best ever by attending, contributing art, volunteering, or sponsoring.
---
2023 ANDY WARHOL SPONSOR
2023 MADONNA SPONSORS
2023 COCA COLA SPONSORS
2023 POPPIES SPONSORS
2023 POP TART SPONSORS