ABOUT THE RESIDENCY PROGRAM
Laura Grace Barrett Printmaking residencies are available from 1 week - 3 months, depending on the needs of the artist. The ZACC's selection committee will choose new residents throughout the year depending on availability. The selections are based on the quality of the work, its artistic merit, and the diversity of the prospective group in terms of work, background, and stage of career development.
RESIDENCY EXPECTATIONS
All active LGB Printmaking residents are expected to:
• Produce art. 
• Donate one (1) print - made during residency - to remain in the LGB print archives. 
• Donate one (1) portfolio* - made during residency - to the annual Last Best Print Fest show OR donate of one (1) framed print - made during residency - for the ZACC annual Mini Show fundraising event.*The portfolio is a 12 edition, one design portfolio. 1 print will be sold as part of the annual LBPF auction, 1 will be retained for the ZACC archive, and the remaining 10 will be included in the portfolio exchange. The resident will receive an exchange portfolio as part of their participation. 
• To spend at least 8 hours a week leading or assisting with studio and gallery maintenance. This contribution may include such general studio tasks as cleaning and organizing the studio, gallery assistance (including work packing and exhibit install/un-install), assisting with studio improvements, and performing other duties and special projects as needed.
Residents are also asked to assist with the production of fundraising events and are often called upon to offer technical or creative advice to studio artists, interns, and students. Residents are responsible for their own inks, paper, all supplies for special projects, housing and transportation.
RESIDENCY BENEFITS
Long and Short-term Residents work alongside our Community Artists and receive the following; 24-hour access to the ZACC Print Shop, semi-private studio space to work in for the duration of their residency (approximately 125 sq. ft.), a locker and flat file space.
PAID OPPORTUNITIES
Resident artists are encouraged to teach classes as a way to share their knowledge and experiences, as well as to interact with our local Missoula community.
Residents are also encouraged to put work up for sale in our sales gallery, and all long-term residents are invited to present a solo exit show near the end of their residency.
APPLY TO BE A RESIDENT
The following application materials will need to be submitted via ZACC's Submittable site: 
Written Residency Project Proposal
Resume
Artist Bio
Artist Statement
3 hi-res/high quality images of your artwork
QUESTIONS ABOUT THE RESIDENCY?
Contact Print Shop Manager Patricia Thornton via the form below, and she'll get back to you with more information!
FORMER RESIDENTS
We're so lucky to have hosted the following artists in our Laura Grace Barrett Printmaking residency.
2023 Residents
• Crackle Bingham 2023
• Drake Denhartog 2023
• Keith Buswell 2023
2022 Residents
• Leland Buck 2022
• Ashley Meyora 2022
• Lia Mendez 2022
2021 Residents
• Deborah Mitchell 2021
• Zoe Erickson 2020-21
2020 Residents
• Sarah Jones 2020
---
ABOUT LAURA GRACE BARRETT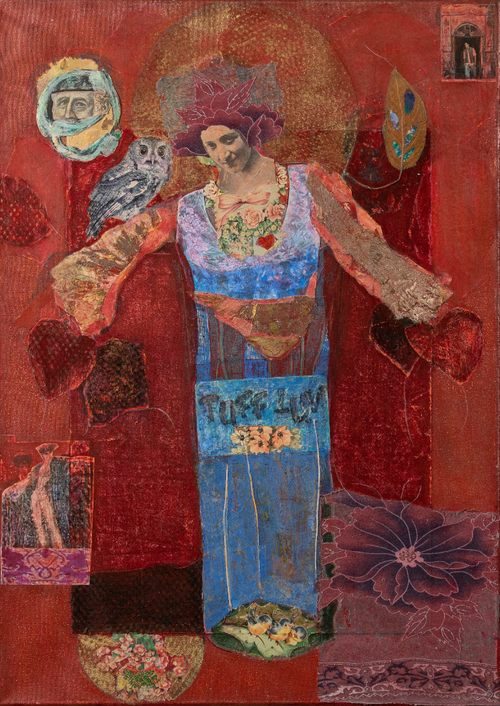 Laura Grace Barrett (1930-2017), poet, painter, and playwright, was born in Froid, Montana. She was raised on a wheat farm, which she left at the age of sixteen to attend the University of Montana. At UM, she studied English, Spanish, and Education, and later art at the University of Hawaii and the University of California, L.A. She also received an MFA in Theater Arts from UCLA.  She worked as schoolteacher in San Francisco, a stewardess for Pan American Airways. She married Jim Barrett, moved to Los Angeles, and had five children (Stephanie Jo, James Patrick, Michael Sean, Kevin Vincent, and Gabriela Goodwin) while traveling the world. She wrote and directed her play "Garden of Pleasure," which was performed at UCLA. Laura and Jim founded Chateau Montelena in Calistoga, California. Quickly, their 1973 Chardonnay won the landmark Paris tasting of 1976, catapulting the winery to fame. Barrett wrote a book about the judgment of Paris, titled "What is More Real Than a Dream? Memoir of Chateau Montelena Winery" The 2008 film "Bottleshock" is loosely based on Barrett and the winery.  She and Jim separated in 1977, and she was married to Jack Barrett in 1984. The couple moved to Bigfork, Montana, and had a second home overlooking the arts district of Puerto Vallarta, Mexico, which influenced much of Barrett's later work. Barrett opened Bridge Street Gallery and Wine Café and Restaurant in Big Fork, Ambos Galeria de Arte y Artefactos in Puerto Vallarta, and later Collage Gallery in Bigfork in 2014. Barrett exhibited and supported Montana contemporary artists, and was influenced by their friendships and art. During her lifetime, her work was included in exhibitions at the Hockaday Museum of Art and Emerson Cultural Center.
Photo: Laura Grace Barrett, Wise Woman Hippolyte, no date, Mixed media on canvas
ABOUT THE PRINT SHOP
SUPPORTED PRINTMAKING DISCIPLINES

The ZACC Print Shop supports screen, intaglio, relief, monotype, collograph, mixed media, and letterpress printing practices.

ZACC PRESSES

The ZACC has the following presses available for use:

Monarch Letterpress
4 color Odyssey 4400 screen printing press
5 portable screen printing presses
Vactor LED Vacuum Exposure Unit w/ digital timer
10 mounted screen presses (sets of screen printing clamps)
Eco Dunk Tank
Poly Backlit Washout SInk w/backlight system
Laguna Etching Press Model 2648  26" x 48" in Bedplate
The Wright Press (electric) 26" x 48" bedplate
Conrad Press  16" x 32" bedplate
Ferric Chloride etching baths

AVAILABLE SUPPLIES

Supplies for your use: 
Paper baths, clean paper area, spatulas, inking table, felts, Squeegees, brayers, carving tools, rags, oil for cleanup, drying racks, ferric chloride bath, clean towels, emulsion screen coater, photo emulsion and  screen cleaner.

Supplies you should bring:
Ink and paper or other substrates to print on.