Our mission, to cultivate community through accessible arts experiences for all, guides our programming in the ZACC Show Room. For events that fall within our mission, the ZACC has specific models for pricing and profit share that we use to ensure that both the artist and the ZACC will benefit fully from our partnership. For events that fall outside of our mission, we are thrilled that you're interested in hosting your event in our space, and we have pricing competitive with other venues in the Missoula area. If you are interested in renting the Show Room for a private event, or public event outside of our mission, please visit Rent a Space > The Show Room.
The ZACC Show Room is located in the heart of downtown Missoula in the beautiful, historic Studebaker Building, and can house a maximum of 150 seated and 350 standing. Adjacent to the Show Room is the Blackfoot Gallery & Lounge, which can be booked in addition to the theatre for events requiring extra, separate space.
The name of our event center harkens back to the building's original use as an automobile garage and showroom. The Studebaker Building is listed on the National Historic Registry, and served a growing automobile industry from the 1920s through the 1950s, when its owner Louis Nybo sold and repaired Studebakers here — the then vehicle of choice for Missoula's police force.
SHOW ROOM AMENITIES
Our event center can handle up to 350 standing, or 150 seated, dependent on room arrangement. It boasts 150 chairs, 20 banquet tables, 10 cocktail tables (which adjust in height), an adjustable theatre lighting system, sound equipment, backdrop and blackout curtains, a removable stage, and a backstage area with access to our kitchen and upstairs bathrooms.
Smooth Sayers – Presented by Starlight Reunion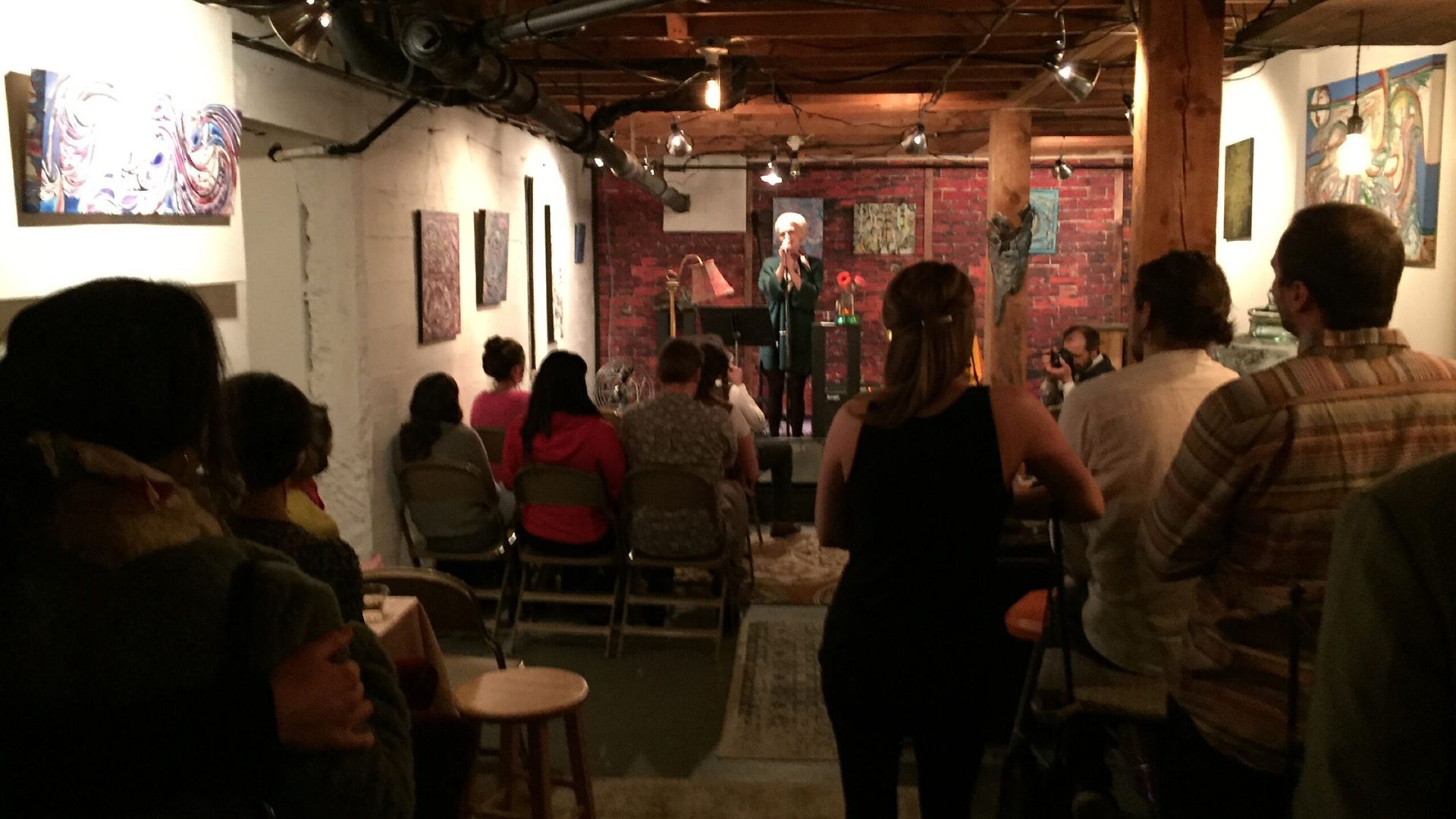 Saturday, June 17 // 4-5:30 PM // Free & Open to All
Starlight Reunion is thrilled to join forces with Missoula Pride to provide a Smooth Sayers event. Join us for poetry, refreshments, and jazz during this free event in The Show Room at the ZACC! Smooth Sayers is a close gathering of poets, writers, musicians, chefs, and visual artists … storytellers of all kinds. Curated by Katie C, this event brings together creative souls and fosters intimate conversations. SmoothSayers aims to invite thoughtful evaluation of the human experience and careful consideration of artists' abilities to illuminate our connection to one another.
To learn more about Starlight Reunion visit https://www.starlightreunion.com/.
For further information, accessibility, and inquiries please visit https://www.zootownarts.org/meet-the-zacc/about/.