Our mission, to cultivate community through accessible arts experiences for all, guides our programming in the ZACC Show Room. For events that fall within our mission, the ZACC has specific models for pricing and profit share that we use to ensure that both the artist and the ZACC will benefit fully from our partnership. For events that fall outside of our mission, we are thrilled that you're interested in hosting your event in our space, and we have pricing competitive with other venues in the Missoula area. If you are interested in renting the Show Room for a private event, or public event outside of our mission, please visit Rent a Space > The Show Room.
The ZACC Show Room is located in the heart of downtown Missoula in the beautiful, historic Studebaker Building, and can house a maximum of 150 seated and 350 standing. Adjacent to the Show Room is the Blackfoot Gallery & Lounge, which can be booked in addition to the theatre for events requiring extra, separate space.
The name of our event center harkens back to the building's original use as an automobile garage and showroom. The Studebaker Building is listed on the National Historic Registry, and served a growing automobile industry from the 1920s through the 1950s, when its owner Louis Nybo sold and repaired Studebakers here — the then vehicle of choice for Missoula's police force.
SHOW ROOM AMENITIES
Our event center can handle up to 350 standing, or 150 seated, dependent on room arrangement. It boasts 150 chairs, 20 banquet tables, 10 cocktail tables (which adjust in height), an adjustable theatre lighting system, sound equipment, backdrop and blackout curtains, a removable stage, and a backstage area with access to our kitchen and upstairs bathrooms.
Creative Crew MT Presents 'Pride Portrait Meet-up / Pride Kick-off Party'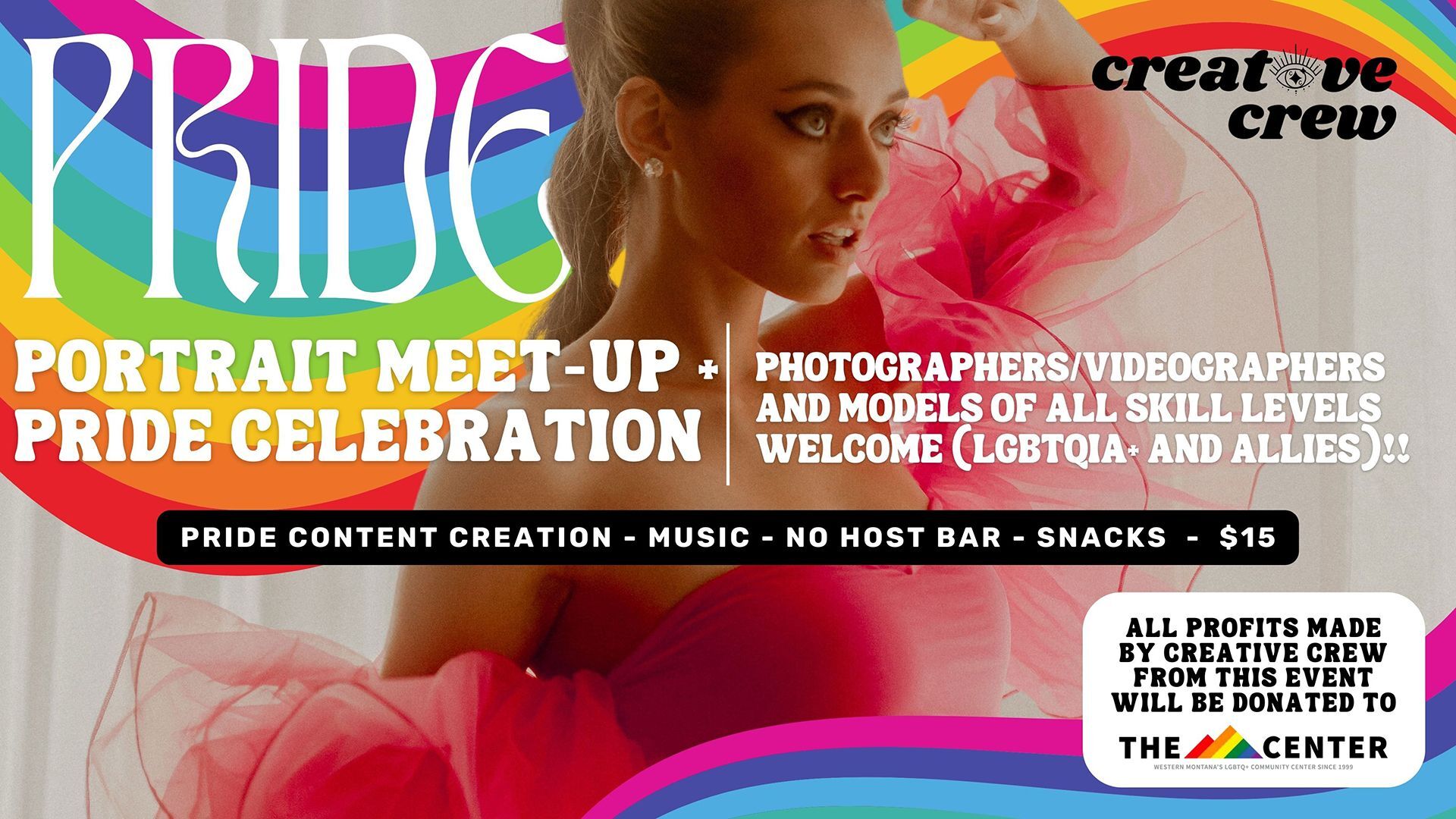 Sunday, June 4 // 1 to 4 PM // $15 // Tickets are PRESALE ONLY, ADVANCED TICKETS REQUIRED
To purchase tickets visit: https://showroom.zootownarts.org/event/pride-portrait-meet-up-pride-kick-off-party/zootown-arts-community-center/missoula-montana/
3+ Pride themed photo backdrops/sets and props for unique content creation for Pride Month! (think lots of bright colors, glitter, discoballs, pride flags + more!) The ZACC's no-host bar will be open (with alcoholic and non-alcoholic options), plus we'll have music and free snacks! This is a fun, low-pressure way to meet other creators + LGBTQIA+ folks, expand your portfolios, and create fun content for Pride Month! Models, photographers, and videographers of ages 18+, all backgrounds and experience levels are welcome.
Jazzer-Rae aka Jazzer Rae Photos will be guaranteeing all LGBTQIA+ folks 6 digital images each within 1 week of the event to ensure you have Pride content ASAP! *Photo turn-around times from other photographers/videographers varies.
This event will run from 1-4 PM, which is a little longer than our usual '2-hour Portrait Meetup' to accommodate time for both shooting photo/video content + socializing!
Additional details will be emailed to all confirmed attendees, prior to the event!
For further information, accessibility, and inquiries please visit https://www.zootownarts.org/meet-the-zacc/about/.