Indigenizing the ZACC 'How We Celebrate Our Families' A Benefit for MMIR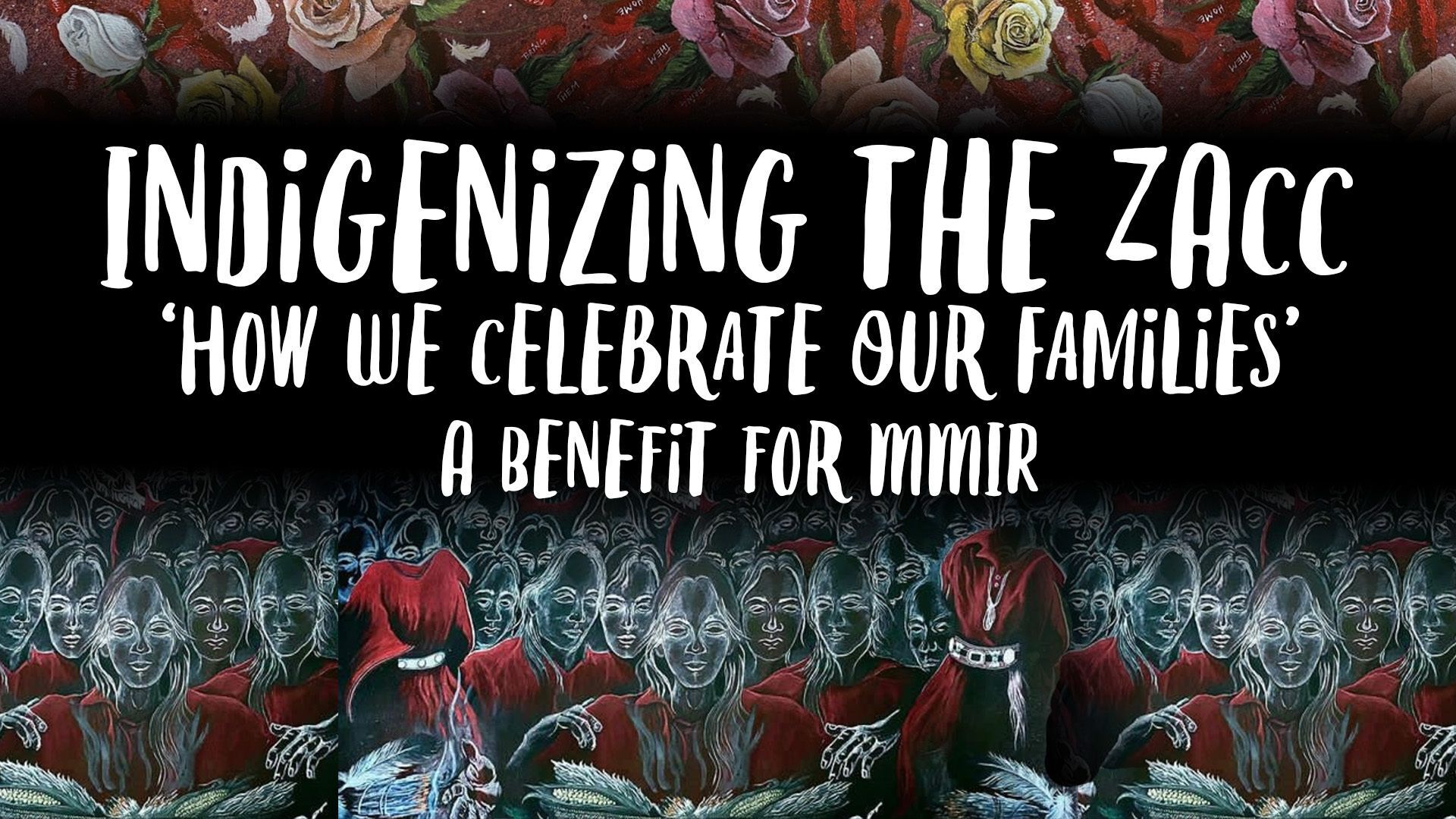 A partnership of Missoula's Indigenous Community, the ZACC, and Jeannette Rankin Peace Center
Supported by All Nations Health Center & First Interstate Bank
Curated by Dre Castillo
Second Friday, September 8
All Events are Free & Open to All People
VISIT THE MMIR AUCTION & BID HERE: https://givergy.us/2023MMIRBenefit/?controller=lots&category=All%20Lots
Indigenous Art Market from 3 to 7 PM, in The Show Room – Including work by: Genevieve M. Yazzie "Gigi" & Curtis j. Yazzie
Mitchell McCabe
Corinna Littlewolf
Kariah Thomas
Maegan Rides At The Door
Derrick Huskie
Kodi Tall Bull
Persephone Sandoval
Logan Gordon
Bitterrootgirlz
Rustiechanelle LeGarde
Julia Williams
Jesse DesRosier (Pikuniboy Media)
Michael Huberman
Corinna Littlewolf
Terecita Disney
Alishon Kelly
Derrick Huskie
May-Lyric Smith
Leon Peppers
Mitchell McCabe
June Rae McDonald
Oye Tonga Wi
MMIR / #MikaMatters Walk from Jeannette Rankin Peace Center to the ZACC at 5:30 PM
Gallery Openings from 6 to 8 PM, with Welcoming Prayer at 6 PM
'Visible Voices: Contemporary Issues IEFA Mural Series', Works by Students of Frazer School on the Fort Peck Indian Reservation – In the Youth Gallery
'How We Celebrate our Families' A Benefit for MMIR (Missing & Murdered Indigenous Relatives) – in the Main Gallery
MMIR Silent Benefit Auction – in the Blackfoot Communications Gallery (Auction closes September 30 at 6 PM)
Music & Storytelling, featuring Jack Gladstone, at 8 PM in The Show Room
Indigenizing the ZACC, 'How We Celebrate Our Families', A Benefit for MMIR, is a 100% Indigenous-led event encompassing all public artistic spaces of the ZACC. The event begins at 3 PM with an Indigenous Art Market featuring over a dozen artists with a variety of different types of work for purchase. Artists and other members of the local Indigenous Community, and their allies, will be gathering at the Jeannette Rankin Peace Center at 5:30 PM, and will lead an MMIR / #MikaMatters Walk to the ZACC. After arriving at the ZACC, Jesse DesRosier will share a welcome prayer, and all are invited to the art gallery opening from 6 to 8 PM. Following the gallery opening, there will be music and story-telling in The Show Room at the ZACC, featuring 'Montana's Troubadour', Blackfeet Musician Jack Gladstone (beginning at 8 PM).
There will also be free 'Bring Your Own T-shirt' Screen Printing during the gallery opening, with artwork by Dre Castillo (with a suggested donation of $5)! Our Print Shop Manager, Patricia Thorton, will be helping folks with the process from 6 to 8 PM. Please feel free to bring whatever you'd like to print on – anything light in color will work best.
Artists participating in the Indigenous Art Market and selling work in the Main Gallery receive 100% of the funds collected from the purchase of their work. Jeannette Rankin Peace Center is supporting live storytellers and musicians. All funds collected through the silent auction will be donated to The Snowbird Fund and other similar nonprofits supporting searches for MMIR, their communities, and their families.
MAIN GALLERY
Gallery Opening from 6 to 8 PM
The Main Gallery will be showing works from Indigenous artists that relate to / answer the question "How do you celebrate the relationships in your life, and how do you continue to honor those relationships positively, even if the person is no longer physically available to you?"
This show features work in many different mediums from many talented Indigenous artists including Monica Gilles-Brings Yellow, Milo Nicely, Kodi Kuka, Annie Crowe (Móxėšéhá'e), Matt Bell, Mitchell McCabe, Dominica Kauʻanokuʻuipo Esperas, Barbara Schelling, and Natalita Oliver.
YOUTH GALLERY
Gallery Opening from 6 to 8 PM
The Youth Gallery will exhibit 'Visible Voices: Contemporary Issues IEFA Mural Series', Works by Students of Frazer School on the Fort Peck Indian Reservation. Frazer School is located on Fort Peck Indian Reservation in northeast Montana and students are primarily enrolled members of the Fort Peck Assiniboine & Sioux Tribes. Through this mural series, the students of Frazer School are raising awareness of the Missing & Murdered Indigenous Women and Girls (MMIWG) movement, awareness of the recovery of Indigenous children's graves at residential schools, and awareness of the presidential proclamation on Indigenous Peoples' Day – all through art activism.
BLACKFOOT COMMUNICATIONS GALLERY
Gallery Opening from 6 to 8 PM
The ZACC Blackfoot Communications Gallery will display works from the MMIR Benefit Silent Auction. 100% of the proceeds from this show go to The Snowbird Fund and other similar nonprofits supporting searches for MMIR, their communities, and their families.
Participating artists include Dre Castillo, Nisa Caskey, Kim Foiles, Linda Cox, Laura Blue Palmer, Delaney Wascherol, and Patrica Thornton.
THE SHOW ROOM
Indigenous Art Market from 3 to 7 PM
Music and Storytelling, featuring 'Montana's Troubadour', Blackfeet Musician Jack Gladstone beginning at 8 PM
This music and storytelling event is free and open to all. At the beginning of the show, Jesse DesRosier will lead a prayer and hand drum song, The Pete Sisters will share a capella traditional Salish Songs 'Montana's Troubadour', and Blackfeet Musician Jack Gladstone will share his music and stories.
ABOUT JACK GLADSTONE
Jack Gladstone is "Montana's Troubadour."
An enrolled citizen of the Blackfeet Indian Nation, Jack illustrates Western and Native American culture through a mosaic of music, lyric poetry, and spoken word.
Jack is a cultural bridge builder, articulating historical, mythological, and contemporary narratives through his songs and public presentations.
In a career spanning over three decades, Jack has most recently received the 2016 Governor's Art Award and a 2016 Jennifer Easton Community Spirit Award from the First Peoples Fund. Jack was recognized with the 2015 Montana Governor's Humanities Award and the Art Council Innovation Award. In 2014 "Jack Gladstone and Friends" were featured on Montana PBS. Previously, in 2013, Jack was inducted into the University of Washington Alumni Hall of Fame and was recipient of the C.M. Russell Heritage Award. Jack's most recent release, "Native Anthropology" (2011) garnered the prestigious Native American Music Award for Best Historical Recording.