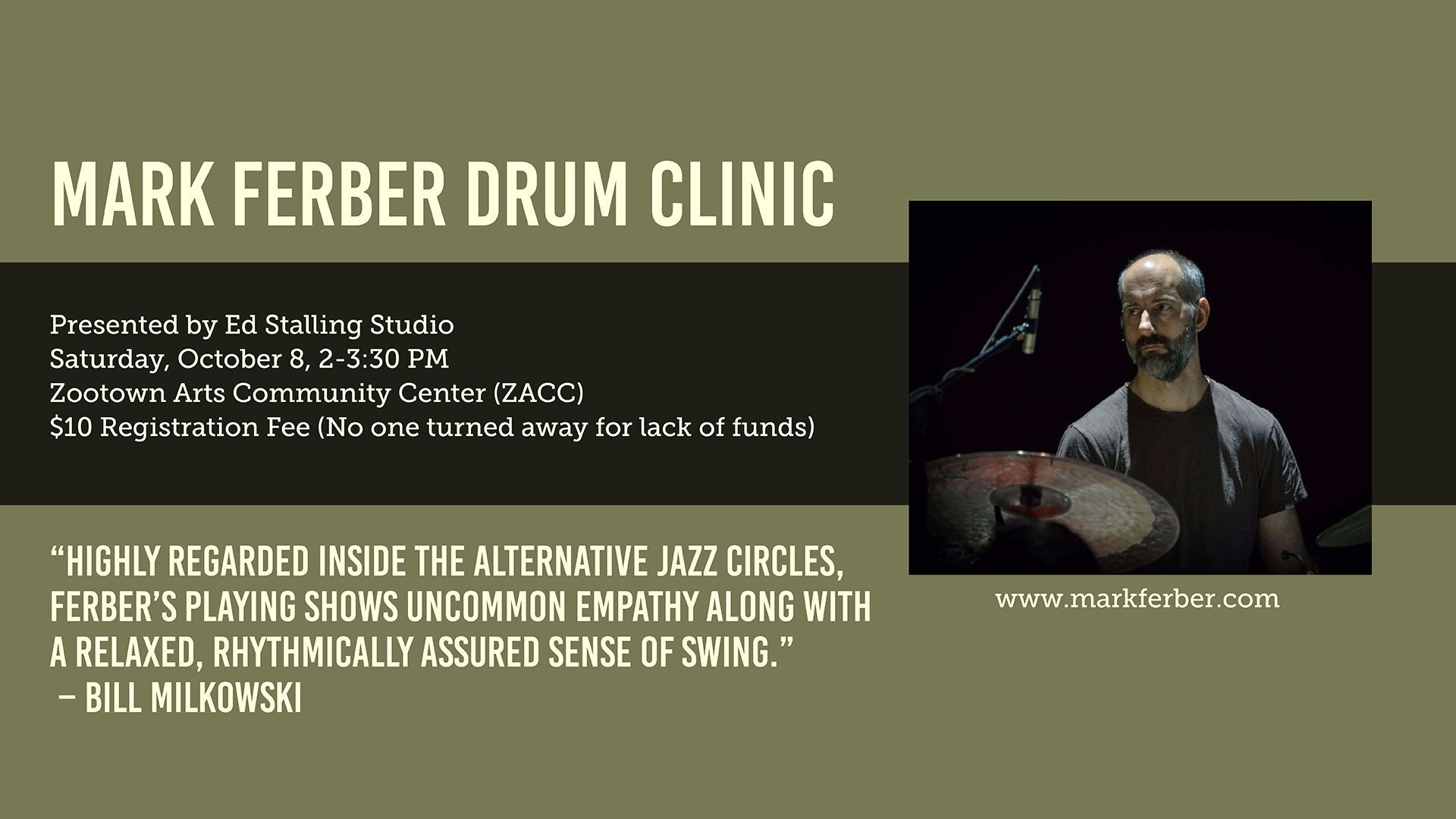 Saturday // October 8 // 2 to 3:30 PM // $10 ( No one turned away for lack of funds)
The ZACC is delighted to partner with Ed Stalling Studio to present a Drum Clinic with renowned musician Mark Ferber. This educational event will be hosted in The Show Room at the ZACC on Saturday, October 8, beginning at 2 PM. Registration for this unique educational opportunity is $10, but no one will be turned away for lack of funds.
Drummer Mark Ferber can be heard on nearly 200 recordings. Ongoing projects include ECM recording artist Ralph Alessi's 'This Against That', the Marc Copland trio, the Brad Shepik Organ Trio, and his twin brother, Alan Ferber's Grammy nominated big band and nonet. He currently maintains a busy freelance schedule throughout New York's jazz clubs, recording studios, and international touring circuit. Past work includes tours and recordings with Lee Konitz, Gary Peacock, Jonathan Kreisberg, John O'Gallagher, Don Byron, Fred Hersch, Tony Malaby, Anna Webber, Mark Helias, Pete McCann, Matt Pavolka, Michael Attias and Billy Childs, among others.
Mark has taught extensively in the United States and Europe. He has worked as a faculty member for the California Institute of the Arts, the Tavira Jazz Workshop in Portugal, the School of Improvisational Music (SIM), The Maine Jazz Camp and The Lafayette Summer Music Jazz Workshop. He currently teaches privately out of the City College of New York. He was born and raised in Moraga, CA and received a degree in Biogeography from UCLA. Mark studied with classical percussionist Mitchell Peters, and legendary jazz drummer Billy Higgins. He lives in Los Angeles and Brooklyn.