Last Best Print Fest 2023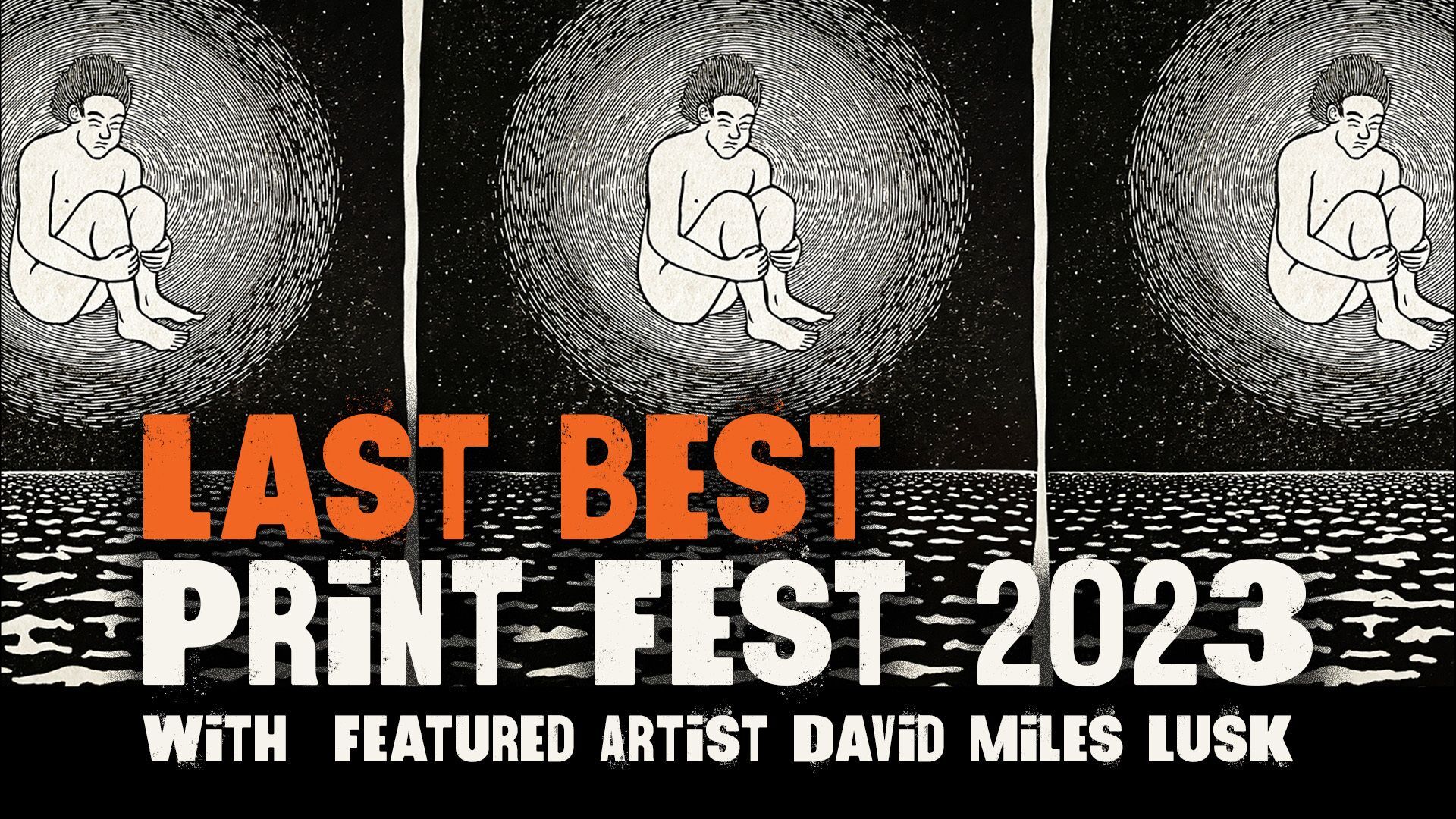 Theme 'Liminal Spaces and Thresholds'
Featured Artist David Miles Lusk
Gallery Opening on First Friday, July 7, 5-8 PM
Free Printmaking Demos by David during Opening (5-7 PM)
& Featuring BYOT (Bring Your Own T-shirt) Screen Printing
Exhibiting in the Main Gallery through end of July
Gallery Opening is Free & Open to All
Auction Begins at 5 PM on July 7, and Closes at 6 PM on July 31
The ZACC is thrilled to be hosting Last Best Print Fest 'Liminal Spaces and Thresholds' – a gallery show that celebrates the art of printmaking by displaying prints from over 40 amazing printmakers on the theme 'Liminal Spaces and Thresholds', all of which showcase the wide breadth of techniques and styles within this unique art form. Along with the portfolios on display, the show includes a selection of works from this year's featured artist David Miles Lusk.
David Miles Lusk is an artist living and working in Missoula, Montana. David received his Bachelor of Fine Arts with an emphasis in Printmaking from the University of Montana in 2014. He is inspired by the intersection of science and mythology, and nature & humanity. David's career in printmaking started nearly in tandem with the beginning of the ZACC Print Shop. David started volunteering at the ZACC way back in 2009, while he was attending the University of Montana for Fine Art. In 2010 he spent a year at the ZACC working as an AmeriCorps VISTA, helping to flesh out and expand the mission of the Print Shop. That year David helped found the Last Best Print Fest with fellow ZACC Print Shop volunteer Sam Berry, and helped with the event again in 2011. David graduated from the University of Montana in 2012 and in 2016 founded his relief print on paper business Anomal Press. Over the years he has volunteered and taught classes at the ZACC. David's art practice has grown up alongside the ZACC, and he is proud to see the Last Best Print Fest, and ZACC Print Shop still going strong.
To further glorify the art of printmaking in all of its splendor, the opening will feature a linoleum printmaking demo in the ZACC Gallery, presented by David, from 5-7 PM, along with BYOT (Bring Your Own T-shirt) screen printing from 5-7:30 PM. So be sure to bring your own light-colored t-shirt, tote bag, bandana, or other textile, so that you can leave with your own David Miles Lusk-designed Last Best Print Fest souvenir!
This year's show and print auction includes work from David Miles Lusk, Colton Rothwell, Patricia Thornton, Heather Stockton, Krystal Wolf, Quinn Thomas, Emma Hasquet, Eli Flaim, Kendall Quindry, Kathleen Marcinkowski, Aydrien Harden, Neal Bovington, Lynzie Asanovich, Sylvia Fish, Josie Libby, Atlas Copenhawer, Skyler Kunz, Miki Hardys, Mason Slapper, Hannah Kautto, Katherine Wendeln, Audrey Dozier, Kenzie LeMay, Margaret Harmon, Ember Cuddy, Kate Wasem, Allison Peschek, Sara Knapp, Kim Foiles, Bev Beck Glueckert, Syd Hoeper, Christine Vance, Kimberly B Campbell, Elizabeth Perry, Jean Carter, Priya Subberwal, Chenoa Reid-Croyle, Emily Matsumura, Bridget Pack, Jack Marshall, Traci Bosshardt-Patino, Walter Medcraft, Grace Spence, Keirani Curran, Julie Swanson Skinner, Jesse Owen, Katie Machain, Geoffrey Pepos, Jon Cardiello, Jace Laakso, Sabina Kitsune, Lisa McKinney and Delaney Wascherol.