Warrior Women, works by Naomi Thornton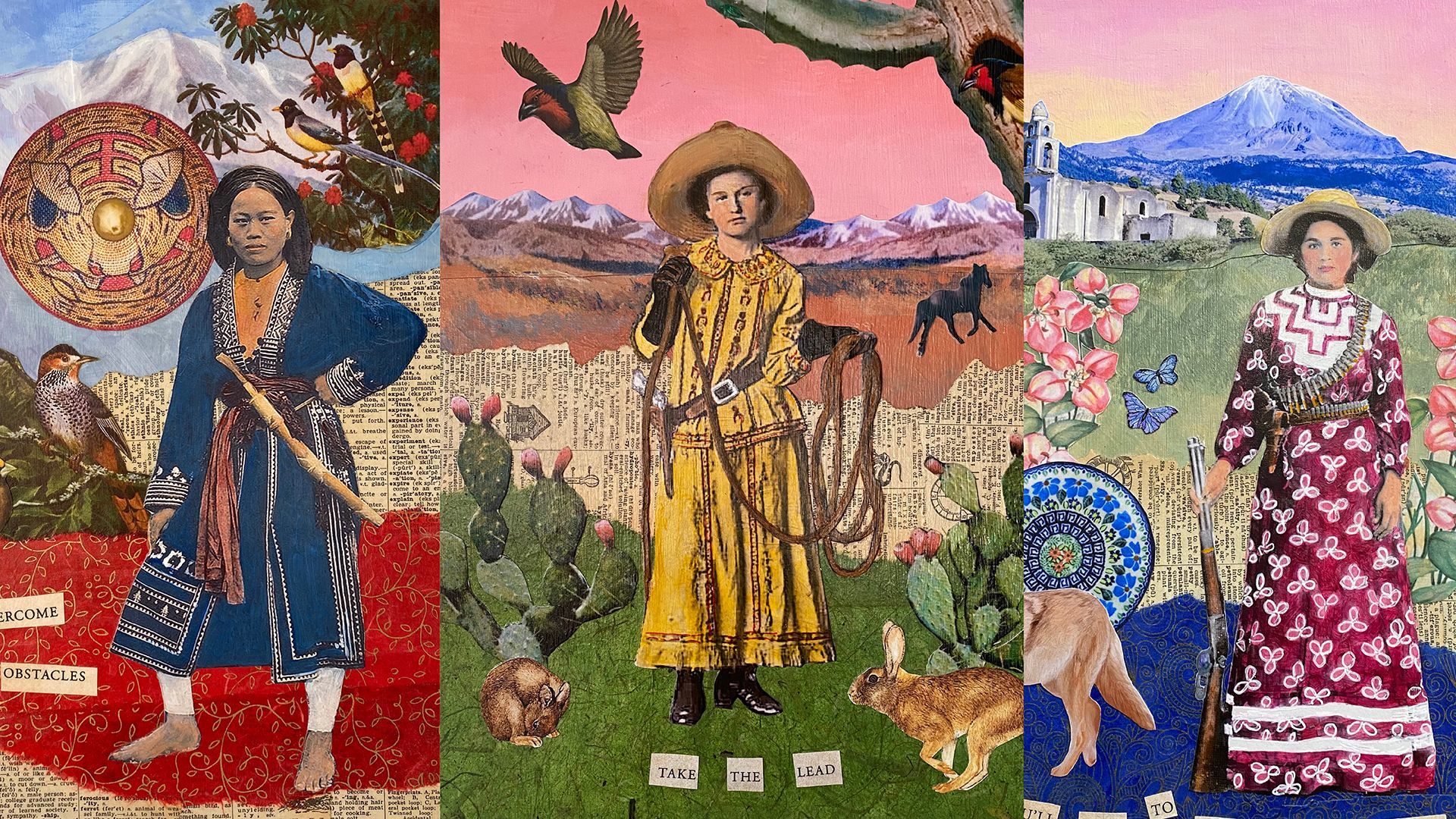 Gallery Opening on First Friday, May 6, 5-8 PM
In the Blackfoot Communications Gallery through May
The ZACC is delighted to exhibit 'Warrior Women', works by Naomi Thornton, in our Blackfoot Communications Gallery this May, with an opening on First Friday, May 6, from 5-8 PM.
ABOUT WARRIOR WOMEN, in the Artist's words
"In my artwork, I create dream landscapes that are places of healing and empowerment. In my series "Warrior Women" I start with vintage photographs of women taken in the 1800's and early 1900's. My medium, collage, is a process of deconstructing and reassembling. I remove each woman from the constraints of her time and locality and place her in a nurturing landscape outside the bounds of everyday reality. In building the dream landscape, I carefully select each piece to reflect and honor her story.
I have always been drawn to portrait photography, knowing that a photograph is a moment in time, a real person with a unique story. The photographs I find are embedded within an historical and cultural context. Some portraits occur within the experience of privilege while others are shaped by colonization and exploitation. I seek to amplify women's voices past and present and reclaim the undervalued stories of women's everyday experiences. I research the achievements and struggles of women during each particular historical moment and locality to envision a framework for each piece of art. I use found images from magazines, books and online resources combined with paint, handmade papers, and text from old books to evoke a textured layering of desires, hopes and dreams. Through my art, I intend to create a narrative of connection and safety, of a way forward.
As a psychotherapist, I have witnessed the incredible resiliency of human beings to heal and reach toward wholeness. In my art, I seek to reflect that part of the human spirit. My hope is that the viewer will also enter the dreamscape I have created as a place of renewal and self-revelation.
I offer my gratitude to all the photographers, known and unknown, whose work is a catalyst to my creative process."