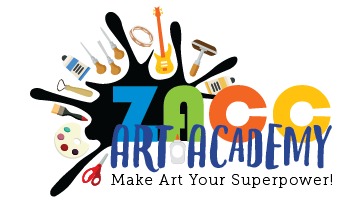 THE APPLICATION PROCESS
At the ZACC, we believe that everyone has a right to engage in the arts to develop their most creative and imaginative selves, regardless of their current financial status. We are asking ZACC Art Academy applicants to self-report financial information so we may continue to make art accessible in accordance with our mission. 
While all applicants who are accepted to the ZACC Art Academy will pay the same subsidized daily rate of $20.00*, we want to do our part to promote equitable access to all members of our community. We will reserve and prioritize a certain number of registration spots for community members who may find other programs cost prohibitive. Choosing not to provide your financial reporting documents will not exclude participation in the Art Academy, but it will disqualify applicants from those spots reserved for income based need. Any financial information provided to the ZACC will remain confidential and will be used only for application purposes and anonymously as part of grant reporting statistics. 
Application review and registrations will occur on a rolling basis determined by upcoming availability. If we are at capacity at the time an application is received, we'll keep a waiting list and inform you if room becomes available. Registrations are for a specific day of the week running for four consecutive weeks, except holidays and school breaks recognized by the Missoula County Public Schools. All registrations will roll over to the next available week in the case of a holiday or school break.
Please keep in mind that we are maintaining a limited enrollment capacity to facilitate social distancing and recommended safety guidelines. To review our COVID specific Health and Safety Directives currently in place, please click here. 

*All existing and future scholarship funds may be applied towards the daily cost of the ZACC Art Academy. To learn more about our scholarship program and to apply, click here.
WE ARE NO LONGER ACCEPTING APPLICATIONS AS THE ACADEMY IS CLOSED.