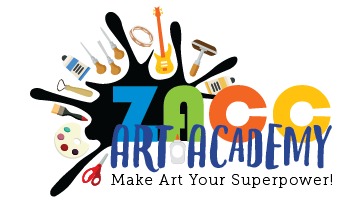 ABOUT THE ART ACADEMY
Our new Art Academy is an open, inclusive, safe space for local youth to receive guided daytime art-based instruction using a wide variety of art materials, techniques, and forms of artistic expression.
ACADEMY-SPECIFIC MISSION
The ZACC Art Academy has been designed and created to provide art-based educational support to Missoula area families who may be experiencing scholastic and scheduling difficulties due to and during the COVID pandemic. The program will remain flexible in order to meet ongoing community needs.
HOURS OF OPERATION
Instruction begins Monday, September 21, and will run Monday through Friday, 9 AM to 3 PM, during the 2020/2021 school year for Missoula kids aged 6-12. Parents may choose to sign up students for 1 day a week, or multiple days depending on their needs.
MATERIALS & TYPES OF ART EXPLORED AT THE ACADEMY INCLUDE
Students in attendance at the academy will have opportunities to explore a wide variety of art materials and processes, including but not limited to: Ceramics, Sculpture, Drawing, Painting, Printmaking, Textiles, Music, Performance-based arts such as Theatre, Dance, Comedy, and Spoken Word.
---
APPLY FOR A SCHOLARSHIP!
We offer scholarships because we believe everyone deserves the right to explore and become their most creative self. Please complete our Scholarship Application to apply. 
---
HAVE A QUESTION?
Have a question about the academy? Contact Education & Volunteer Coordinator Joe Kirk at joe@zootownarts.org and he'll get back to you shortly!
WANT TO TEACH AT THE ACADEMY?
Head to "Become An Instructor" if you're interested in teaching at the ZACC Art Academy or our after school and summer camp programming!