Our mission, to cultivate community through accessible arts experiences for all, guides our programming in the ZACC Show Room. For events that fall within our mission, the ZACC has specific models for pricing and profit share that we use to ensure that both the artist and the ZACC will benefit fully from our partnership. For events that fall outside of our mission, we are thrilled that you're interested in hosting your event in our space, and we have pricing competitive with other venues in the Missoula area. If you are interested in renting the Show Room for a private event, or public event outside of our mission, please visit Rent a Space > The Show Room.
The ZACC Show Room is located in the heart of downtown Missoula in the beautiful, historic Studebaker Building, and can house a maximum of 175 seated and 350 standing. Adjacent to the Show Room is the Blackfoot Gallery & Lounge, which can be booked in addition to the theatre for events requiring extra, separate space.
The name of our event center harkens back to the building's original use as an automobile garage and showroom. The Studebaker Building is listed on the National Historic Registry, and served a growing automobile industry from the 1920s through the 1950s, when its owner Louis Nybo sold and repaired Studebakers here -- the then vehicle of choice for Missoula's police force.
SHOW ROOM AMENITIES
Our event center can handle up to 350 standing, or 175 seated, dependent on room arrangement. It boasts 175 chairs, 20 banquet tables, 10 cocktail tables (which adjust in height), an adjustable theatre lighting system, sound equipment, backdrop and blackout curtains, a removable stage, and a backstage area with access to our kitchen and upstairs bathrooms.
6th Annual Missoula Monster Project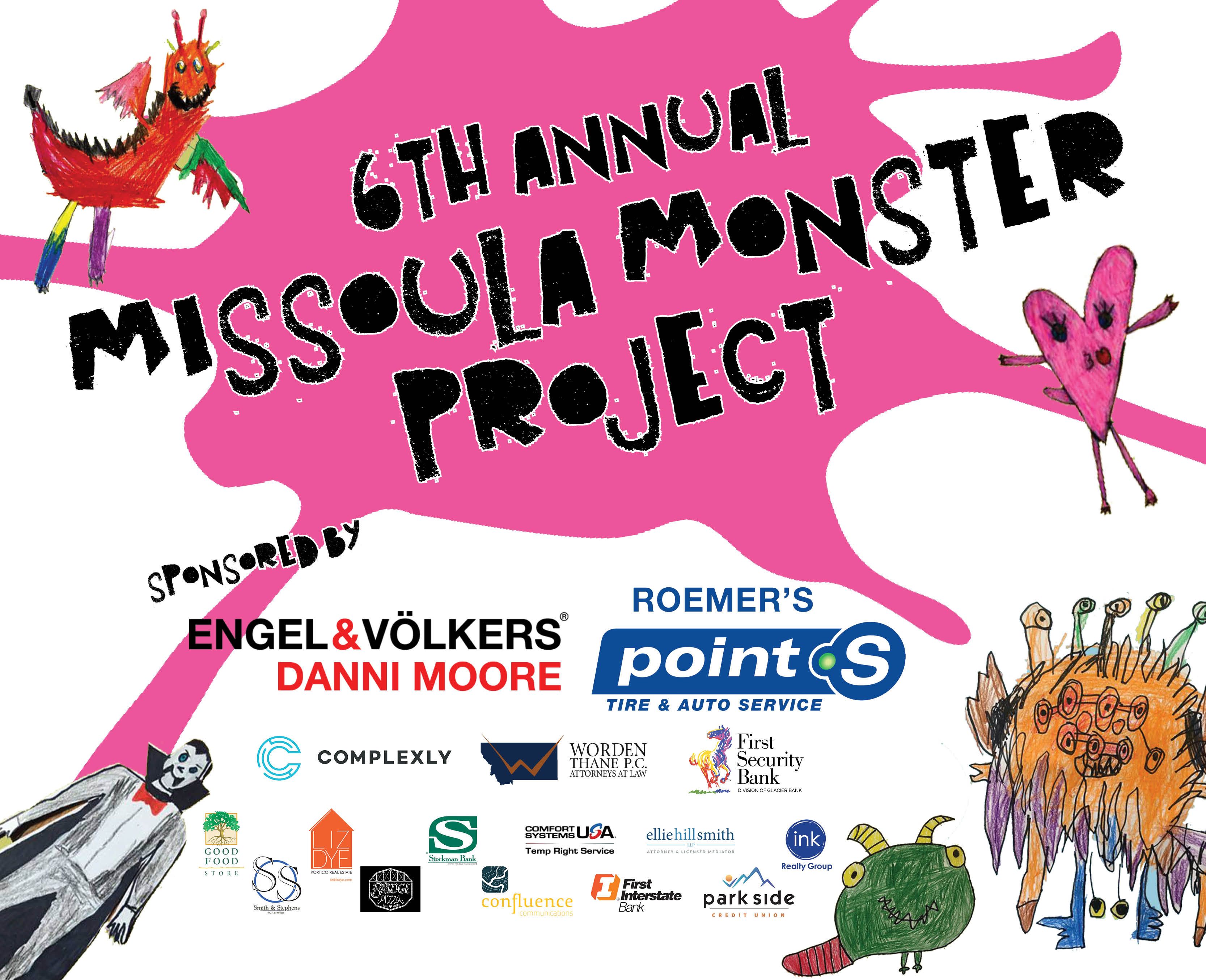 IN-PERSON GALLERY OPENING on October 2, 5-8 PM
SOCIAL DISTANCE SESSIONS Cowboy Andy & the Salamanders (Virtual Family Dance Party!) on October 3, 7:30 PM
VIRTUAL GALLERY OPENING on October 6
It's time! We are so excited to present the 6th Annual Missoula Monster Project, in cooperation with Missoula County Public Schools Fine Arts Department, including Tiffany L. Miller, Monica Howie, and Norel C. Swanson.
Originally conceived by nine year-old Asa Smetanka, the Missoula Monster Project is always a collaboration between school children and adult artists. Kindergartners draw a monster from their incredible imaginations, and adult artists recreate these monsters in their own medium. This year, children participated from home during the spring quarantine. They dreamed up their monsters from their kitchen tables, or from their bedrooms. Some of them created friends they could imagine playing with. Others used the assignment to recreate themselves in monster form, and talk about their frustrations and hopes. Some just made adorable monsters that love to roller skate and eat pizza. We love them all, and this year's creative geniuses are in for a treat. Each child's monster has been given to three adult artists, all of whom have recreated the monster in their own medium. The kids will be able to see their monster come to life in multiple ways!
IN-PERSON GALLERY OPENING
Head over to the ZACC at 216 W Main St on Friday, October 2, anytime between 5-8 PM for the 2020 Missoula Monster Project Gallery Opening. Please note that masks are required, and we will be monitoring building capacity. Attendees may have to wait in line outside for their turn to view the monsters. The ZACC will also be open all weekend (as usual!), so feel free stop by and see the show after the opening if you prefer or require a more private experience but still want to venture out and see the show in-person.
VIRTUAL GALLERY OPENING
For those who choose to remain at home or who must do so due to high-risk, don't fret! We will be having a 100% virtual opening for the 6th Annual Missoula Monster Project on Tuesday, October 6! All youth and adult monsters will be viewable on our website https://www.zootownarts.org/shop/2020-monster-gallery.html beginning that morning (10/6). Some of the monsters may have been purchased by the online opening, as parents of youth artists always have first dibs, but many will likely still be available! We have a goal this year to FIND A HOME FOR EVERY MONSTER, so feel free to share the virtual gallery far and wide!
COWBOY ANDY & THE SALAMANDERS, VIRTUAL FAMILY DANCE PARTY!
And wait, there's MORE! Check out our Social Distance Sessions live-streaming event on Saturday, October 4, for a family dance party with Cowboy Andy & the Salamanders! They can't wait to rock with all the amazing kids (and grown-ups) who helped make this year's Missoula Monster Project the best one ever. Visit https://www.zootownarts.org/event-details.html/event/2020/10/03/social-distance-sessions-cowboy-andy-the-salamanders/305343 for more information.
And of course, we couldn't have done any of this without the generous support of our wonderful sponsors. Their support this year is paramount. We are so grateful for their commitment to our community, to arts education, and to the power of intergenerational collaboration and creation.
2020 MISSOULA MONSTER PROJECT SPONSORS
Cthulhu Level:
Engel & Volkers Western Frontier and Roemer's Point S Tire & Auto Service
Frankenstein Level:
Complexly
Gremlin Level:
Worden Thane P.C. and First Security Bank
Cookie Level:
Smith & Stephens PC Law Offices, Liz Dye & Portico Real Estate, Park Side Credit Union, Stockman Bank, First Interstate Bank, Temp Right Service, Confluence Communications, Ink Realty Group, Ellie Hill Smith LLP, The Good Food Store, and The Bridge Pizza