Thank you for your interest in volunteering at the ZACC! Our organization thrives on the generosity of volunteers like you to help fulfill our mission. We welcome folks to help in several areas of our operation; our youth classes and rock camps, our Laura Grace Barrett Print Shop, and live events held in the Show Room at the ZACC. There are also several individual opportunities to lend a hand throughout the year like our annual Mini Show fundraiser or tabling sessions at schools and community events. 
However you would like to help out, we want you to know that we value your contribution. Therefore, those volunteers who complete at least 15 hours for the ZACC are eligible to receive a voucher valued at $25 to be used on events and classes for themselves, or events, classes or camps for family members. For each additional 10 hours, volunteers are eligible for another voucher of the same value. Vouchers may not be redeemed for retail items such as pottery, items in the shop, or gallery pieces. 
Please look at the various volunteer roles listed and send us your contact information, as well as your preferred availability (evenings after 5, Sundays, unavailable on Tuesdays, etc.), using the subsequent form. We are certain we can find a way for you to make a difference! 
AVAILABLE VOLUNTEER OPPORTUNITIES
Youth Classes/Visual Arts

Times:

Summer: 8AM - 12PM or 1PM - 4:30PM, Monday through Friday  
School Year:  4 - 6:30PM Monday, Tuesday Wednesday and 3 - 5:30PM on Thursdays

Responsibilities:

Assist the class instructor with material preparation and classroom organization for specific lessons in a diverse catalogue of artistic genres ranging from clay handbuilding to stop motion animation. 
Work with individuals or groups of students to help them work through the content of the lesson.
Assist with classroom clean up.
We do encourage volunteers to pick at least one camp (either one full week in the summer or 6 consecutive weekdays in the school year) and volunteer for the duration of that camp. 

Rock Camps

Times:

Summer: 9:30AM - 4:30PM, Monday through Friday
School Year: 4 - 6PM, Monday and Wednesdays or 4-6PM on Tuesdays and 3 - 5PM on Thursdays

Responsibilities:

Assist Rock Camp Instructors with instrument set up and the division of the group into bands. 
Work alongside instructors with one band or rotate among bands helping students to craft their own lyrics and guiding them in the creation of individual parts to contribute to their group's song. Help the bands stay on task, rehearse effectively, and prepare for the final performance at the end of camp.
We value all levels of musical experience among our Rock Campers. For some, it will be the first time they pick up their chosen instrument and others may have already had a few years of lessons.
We also value myriad experience levels in our instructors and volunteers. Whether you are a professional musician or just like to play for fun, reach out if you are interested in passing along a passion for music.

Show Room at the ZACC

Times:

Days Vary, Approximately 6:30 - 10:30 PM

Responsibilities:

Assist with Show Room set up and staging. 
Work in a variety of roles during live performances, such as helping bartenders, ushering, running the door, and other duties as needed.
Enjoy awesome music, live theatre, or other performances taking place at the ZACC.

Laura Grace Barrett Print Shop

Times:

Weekdays, 1-2 Hour Blocks, 10AM - 6PM
Weeknights, 6 - 8PM for Adult Printmaking Classes

Responsibilities:

Assist in print shop maintenance and cleaning.
Monitor print shop usage for class participants and other keyholders. 
Assist the Gallery and Printshop Manager with class preparation, lesson delivery, and clean up.

Front Desk/Paint Your Own Pottery Studio

Times:

Weekdays, 1-2 Hour Blocks, 10AM - 6PM
First Friday Evenings, 5 - 9PM

Responsibilities:

Assist with upkeep and operation of Paint Your Own Pottery Studio (clear glazing, assisting customers, etc.).
Help with sales of items from the studio and the ZACC Artists Shop. 
On First Fridays, help direct patrons to the gallery, assist with bartending, and helping the front desk employee on duty record gallery sales.

Special Events and Outreach

Times: 

Varied dates and times

Responsibilities:

Throughout the year, the ZACC has several individual events and outreach opportunities where volunteers can help spread the word about our organization and mission to cultivate community through accessible arts experiences for all. These events range from the ZACC Mini Show, our largest annual fundraiser, to tabling opportunities at local public schools. More information about these volunteer opportunities can be found via our site Menu > Shows & Events > Annual Events (select the event of your choice).
---
Last Best Print Fest 2022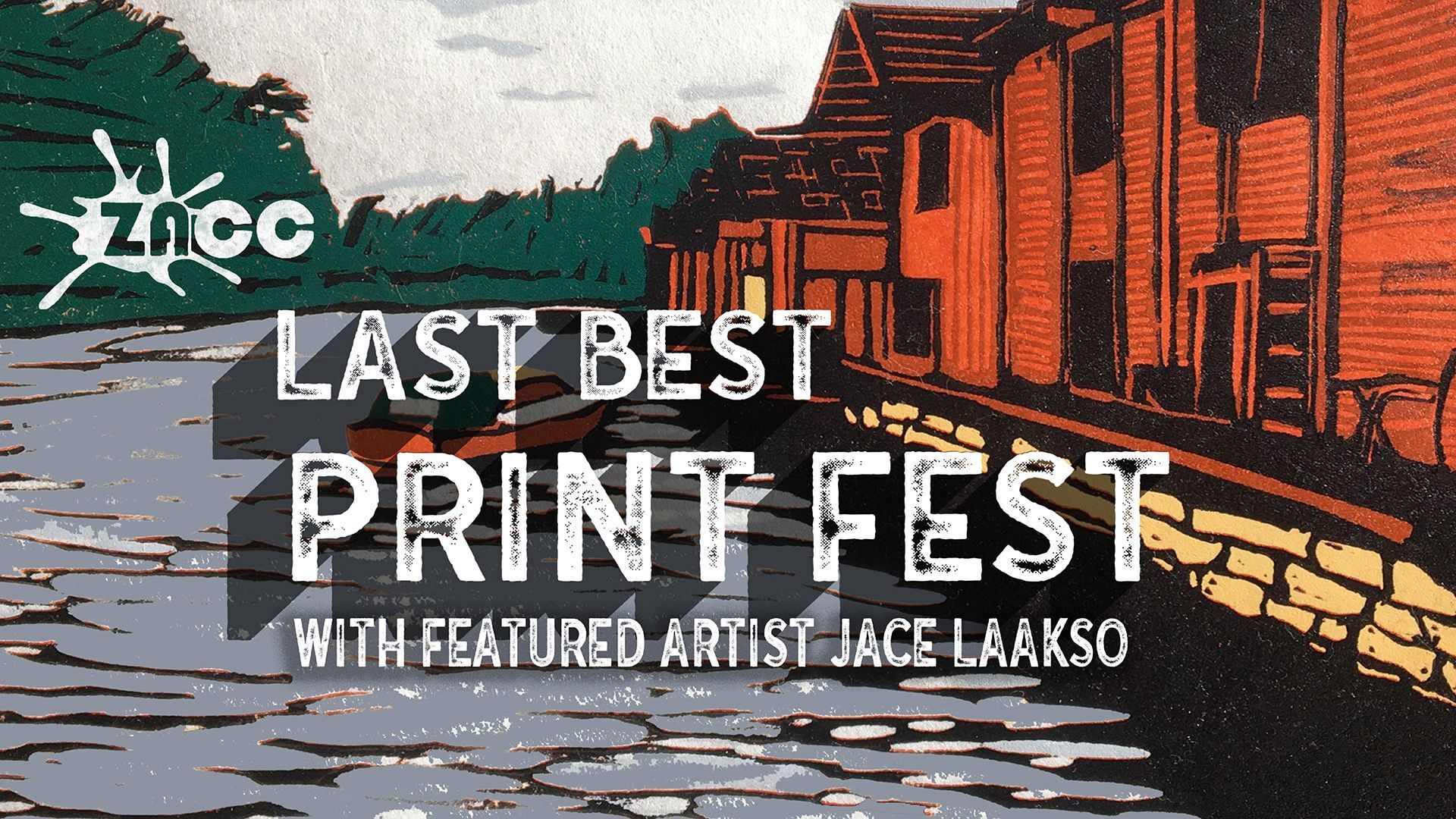 Prints from Portfolios Submitted by over 50 Printmakers
Under the Theme 'Shadows'
Featured Artist // Jace Laakso
To visit the main Last Best Print Fest page on our website visit: https://www.zootownarts.org/shows-events/annual-events/last-best-print-fest.html
Gallery Opening Second Friday, July 8, 2022, 5-8 PM
Free Printmaking Demos on July 8 from 2 to 8 PM
LBPF Bingo Card All Month Long
Pull-A-Print at Noteworthy Paper & Press on July 9 & 10
Take a Tour of the Print Shop at Western Sensibility on Saturday, July 23
Closing Event on Saturday, July 30 from 10 AM to 3 PM
GALLERY OPENING
The 2022 LBPF Portfolio Exchange Auction Exhibition opens on Second Friday, July 8 from 5-8 PM. Auction bidding will occur entirely online through Givergy, link TBA. During the Main Gallery opening from 5-8 PM our staff will also be offering screen printing of this year's Last Best Print Fest Bingo Card design for anyone who wants one – bring your own T-Shirt, cloth, or paper, or grab something from the ZACC's Free Art Supply Closet!
OPENING DAY PRINTMAKING DEMOS
Opening festivities for 2022 LBPF begin at 2 PM on Friday, July 8, with several free printmaking demonstrations: 2-3 PM with Delaney Wascherol and the Art Activism Camp Project, 3:30-4:30 PM with Bev Beck Glueckert and Experimental Segmented Relief Print, 5-6 PM with Jace Laakso and Reduction Prints, and 6:30-7:30 PM with Christa Carleton and Letterpress Printing.
LBPF BINGO
Nine local businesses and arts organizations, including the ZACC, are participating in 2022 Last Best Print Fest Bingo – and you should, too! Pick up your LBPF Bingo Card at the ZACC, or one of our supporting partners: Art Attic, Betty's Divine, Clyde Coffee, Frame of Mind, Noteworthy Paper & Press, Le Petit Outre, Montana Museum of Art & Culture (MMAC), and Western Sensibility. Each location on the LBPF Bingo Card is displaying a unique print by Jace Laakso throughout the month of July. Stop by each location to earn a stamp – and bring completed Bingo Cards back to the ZACC to be entered into a drawing to win a featured print by Jace! The winner will be announced at noon on Saturday, July 30.
PULL-A-PRINT AT NOTEWORTHY PAPER & PRESS
219 S 3RD ST W
JULY 9 & 10
One of our Last Best Print Fest supporting partners, Noteworthy Paper & Press, will be offering the opportunity to pull your own print of an in-house designed Last Best Print Fest 2022 Poster! Stop by the store from 10 AM to 4 PM on Saturday, July 9 and Sunday, July 10 to experience printing on their vintage Vandercook proof press.
TAKE A TOUR OF THE PRINT SHOP AT WESTERN SENSIBILITY
1850 IDAHO ST
JULY 23 AT 2 PM & 4 PM
Western Sensibility is Montana's first digital textile printing studio located right here in Missoula. The studio specializes in sustainably printing textiles for contemporary artists and interior designers. Come take a tour and learn how digital textile printing technology unlocks creativity and allows artists to print imagery on textiles impossible just years ago.
CLOSING EVENT & FINAL PRINTMAKING DEMO
Sign-up online to participate in the final printmaking demonstration for LBPF 2022 – a family friendly demo of Found Object Monoprints by this year's featured artist Jace Laakso, beginning at 10 AM on Saturday, July 30. And stick around afterward for our annual Print Shop 'Garage Sale' – with a relief press, a t-shirt press, a filtration system, a portable burning unit, and other printy oddities on offer. The Print Shop 'Garage Sale' runs from noon until 3 PM on Saturday, July 30.